Ameci Cares About Our Schools
As we know, our schools are always looking for ways to raise funds for our children. Schools today face major financial challenges. Without the help of local business leaders, it would be difficult for our children to get the needed education to propel them to the top.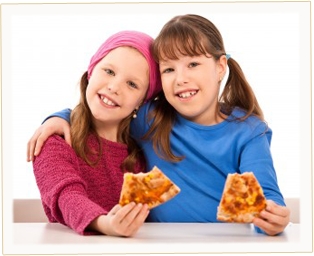 We at Ameci Pizza & Pasta have been actively raising needed funds for our children for many years. Today, many participating Ameci locations offer fund-raising activities to benefit our local schools.
"Ameci Cares About Our Schools" Stamp
Every one of our pizza boxes is stamped with an "Ameci Cares About Our Schools" stamp. Each stamp is worth 50 cents. The idea is for the parents to cut out these stamps from the pizza boxes and bring them to the school. One parent at the school can be in charge of collecting these stamps and then redeem them at a participating Ameci location for cash.
Many participating Ameci locations also offer special school discount programs. To inquire about school specials, please contact your local Ameci Pizza & Pasta location.