Nick Andrisano was born in and raised in New York City, where his Italian parents and grandparents opened a pizza restaurant in 1931. In 1979, Nick moved to Los Angeles and opened 2 upscale dining establishments called Ameci Italian Cuisine.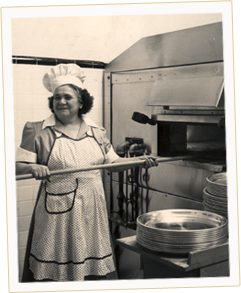 Angelo Falato, the son of a restaurant family from Rome, traveled to Colombia, Venezuela and Guatemala before finally settling in Los Angeles where he opened a broasted chicken restaurant.
In 1983, Nick and Angelo partnered to open a third Ameci Italian Cuisine and In 1984, they opened the first Ameci Pizza and Pasta restaurant.
A corporation was formed in 1984 with Nick Andrisano and Angelo Falato as officers. Following the death of Angelo Falato in 2002, his daughter, Maria Falato, has administered his holdings in the corporation.
Today, Ameci Pizza and Pasta operates some 40 locations in California, serving pizza, pasta, salads, subs, and more.